4 for a dollar just like old times…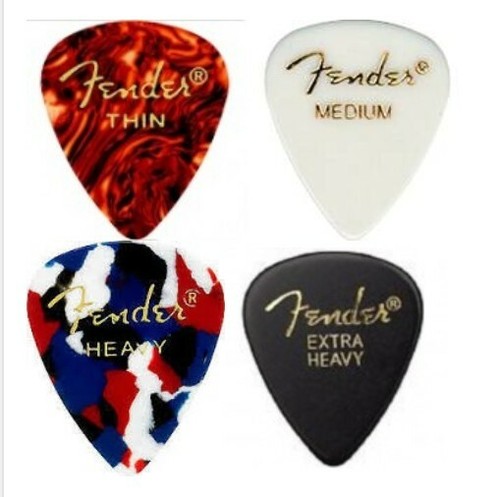 Click on the photos above or on this link to see Fender Guitar Picks on eBay from Fenderguitarpicks.com.
We have the lowest consistent prices in the WORLD on Fender Classic Celluloid 351 Guitar Picks. And if by some bizarre chance or inventory closeout deal somebody is actually beating our prices? Well, tough on us. Buy from them. It doesn't happen very much. Contact us first though and we will try to beat their price.
See these photos?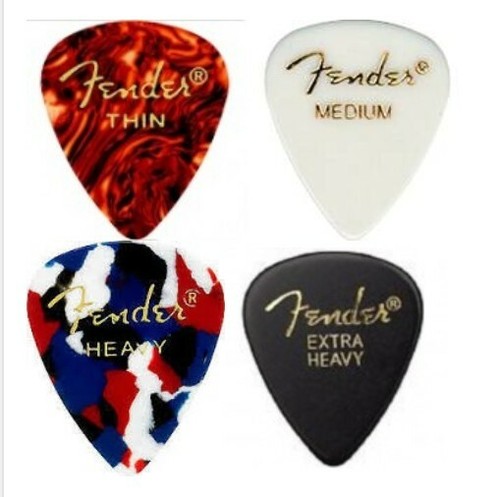 THESE are THE images that show up in people's heads when you say GUITAR PICK.
And by the way, we only sell the CLASSIC CELLULOID Fender 351 Shape, and not the Moto stuff, which we have some serious emotional issues about and no one we know uses them, not to piss off anyone at Fender, but… please.WE sell the REAL DEAL, in the real and original Fender colors and gauges. Thin, Medium, Heavy and Extra Heavy, Shell, White, Confetti and Black, the choice of great guitarists all around the world. These are new out of the manufacturer's package, packed one dozen for you and shipped via 1st Class US Mail, sorry no tracking, but our prices are so low that we found that people felt both silly and and wasting money by paying $3.50 for shipping and handling and tracking which would nearly double our price. It's the same mail carrier who's going to put the envelope in your mailbox and it's gonna get there in a few days, so we're sorry if you can't click on a tracking number that basically tells you your guitar picks are now in a sorting bin in Tuscaloosa and you'll have 'em soon. Don't worry. We got you covered. YOUR GUITAR PICKS ARE RIGHT HERE, baby… and we got 'em for the lowest price on the web for you.You might also have noticed that we have and always seem to have in stock and available for you the Heavy and Extra Heavy picks.Ever wonder why HEAVY and EXTRA HEAVY picks are so hard to find at your local music shop? Cuz not that many people use them and it's not as profitable to keep them in stock as few people buy them. Why? Cuz it's mostly the more experienced and to be honest with you, the best guitarists who use them. professionals. PLEASE though do not be offended if you happen to use thin picks. From what we understand, so does Eric Clapton, when he's playing heavy rhythm. The truth about what kind of guitar picks are best to use is basically to pick the right pick, the right tool, mama didn't raise no fool, for the job. SO many REALLY really good guitarists have every kind in their arsenal, depending on the notes at hand…So, most shops don't bother carrying the extra heavy picks especially because they cost more and they just sit there and take a long time to sell, whereas, at
fenderguitarpicks.com
, we DO sell extra heavies, and why? Because we're not greedy corporate pigs who care nothing about the needs of our customers. and we strive to always have them in stock, even though we don't make as much money off them. Don't let our name fool you. Up the establishment. Be a rebel. Buy from us. The little guy.